Frequently asked questions
Procedures of withdrawals
When and how can I withdraw my funds?
You can withdraw your uninvested funds that are listed in your investor profile as 'Available for investment' amount.
To withdraw your inactive funds, you have to go to the 'Deposit/Withdraw' -> 'Withdraw' section on your profile, insert the required amount to be withdrawn, select your bank account to which funds will be transferred, and confirm the request by pressing 'Withdraw funds':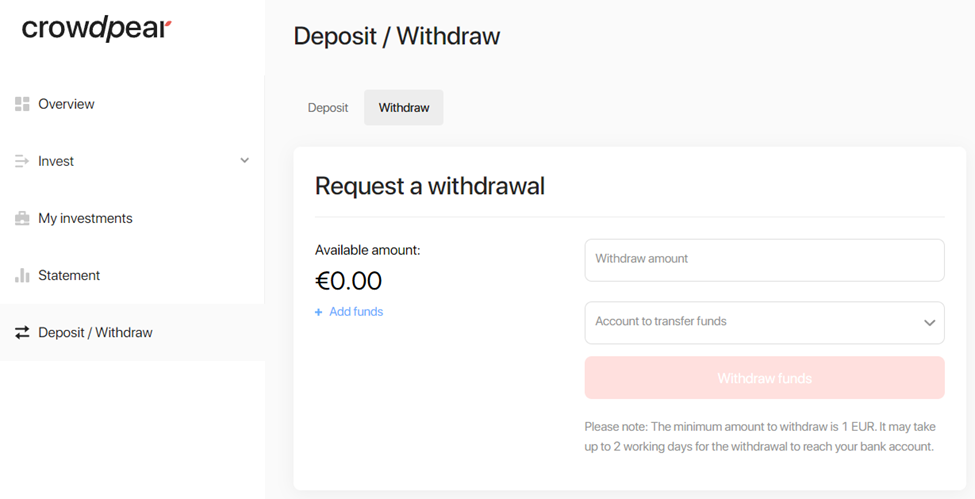 Thank you for your feedback.
How to add a new bank account for money withdrawal?
To add a new bank/payment provider account to which you want to withdraw your money, you have to transfer at least 0.01 Eur from your new account to your Crowdpear account. All bank/payment provider accounts used to transfer money to Crowdpear will be registered on your profile, and you will be able to choose from any of these accounts when requesting a withdrawal.
If you need any of the assigned bank accounts to be removed from your profile, please contact our Client Support.
Thank you for your feedback.
Is there a limit or fee for a withdrawal?
Crowdpear does not apply any deposit or withdrawal fees. Please note that your bank/payment provider may only charge you.
Funds can be withdrawn to the bank account from which the deposit was completed. The minimum withdrawal amount should be not less than 1 Eur.
Thank you for your feedback.
How fast will I receive my withdrawal?
It might take up to 2 working days for funds to reach your bank/payment provider account, it mostly depends on the bank/payment provider.
Thank you for your feedback.